With 9 Courts and Only 250 Families, Brookside boasts advanced reservation booking, and same day court availability with an on-line reservation system at: YourCourts.com
Brookside also offers both adult and junior tennis lessons and clinics, as well as a wide range of USTA teams to play on throughout the year.
Brookside Tennis Training is designed to develop and challenge all players from young beginners to advanced tournament players.  Programs have been created to take you to the next level by developing an all around game and forming a solid technical base for each player to grow and reach new heights.
Brookside Club of Saratoga is the home to Brookside Tennis Training located in the beautiful Bay Area of Northern California. This hidden gem located in the neighborhoods of Saratoga makes for one of the best places to train for up and coming Junior and Adult players. At Brookside you get personalized attention and customized lesson plans to fit your individual needs.
For more information, and to sign-up for lessons today, go to: BrooksideTennisTraining.com
All staff biographies and information are found here at the brookside tennis training website
Steve Roberts | Tennis Director
email:Tennisdirector@brooksideclub.com
website:BrooksideTennisTraining.com
cell: (408) 835-2552
Claire (Soper) Roberts | Tennis Professional
email:claireroberts144@gmail.com
cell: (520) 465-9283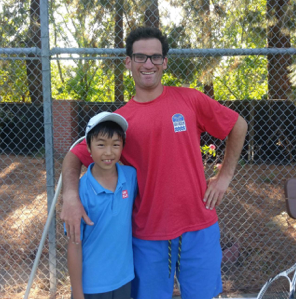 Brendan Moore | Assistant Tennis Professional
Drexler Dy | Academy Professional
Development Specialist
AOIFE WILSON | Instructor
Adult/ Junior Development Specialist
Adult Training
Please contact Tennis Director Steve Roberts with any Tennis Lessons or Clinic Questions at:tennisdirector@brooksideclub.com or call Steve directly at (408) 835-2552.
Our Junior Programs
We offer a full range of Junior beginner, intermediate, and advanced tennis training camps, and private lessons.
 To find out more about current rates, session availability, and to sign up for camps now, get in touch with coach Steve at:
email:TennisDirector@brooksideclub.com

website:brooksidetennistraining.com
call:  Coach Steve at 408-835-2552
Brookside is very active in the Lower Peninsula leagues of Northern California USTA as well as supporting a variety of inter-club play. Tennis players at most levels can easily find compatible hitting and or practice partners. Members are encouraged to participate in league play to enjoy team camaraderie as well as to meet and play with other players of a similar skill level.
If you are interested in joining one (or more) of the teams or would like more information, please contact:
Tennis Director- Steve Roberts
TennisDirector@brooksideclub.com
BrooksideTennisTraining.com
or call Steve at: (408) 835-2552